Education philosophy

Through the education of Japanese culture, we aim at fostering global citizens
who understand, accept, and love the ideas of others and cultures of different countries and regions.
Not by means of interaction between a country and a country,
but by having interaction between people (民) and people (民) with Japanese language and culture as the catalyst,
we cultivate the mindset of mutual understanding, and we believe these efforts lead to world peace.
This is the educational philosophy of Kyoto Minsai Japanese Language School.
Greetings from the principal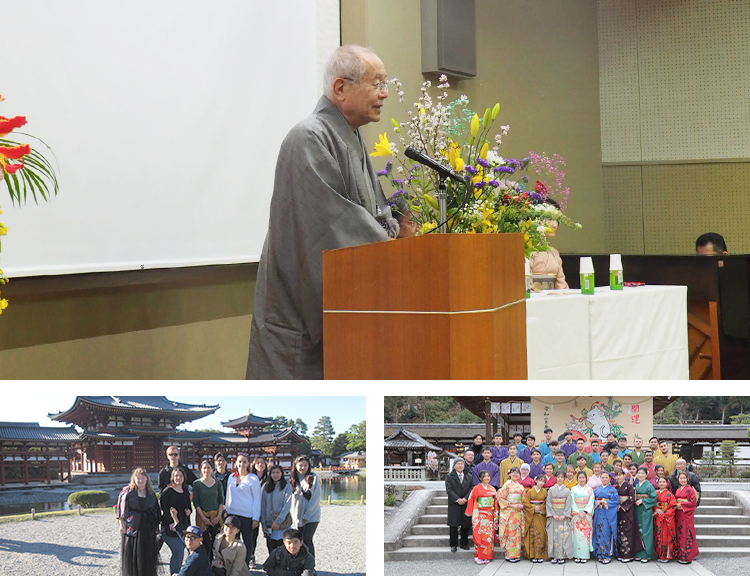 We named our school "MINSAI" with a hope that, through the education of Japanese language and culture, our students become global citizens who cherish interactions between people and are able to play an important role on a global stage, and by doing so, we would like to contribute to world peace.
At Kyoto Minsai, our students come from various countries, so while studying Japanese language and culture, students can have an international exchange with diverse students to build invaluable friendships in the Minsai world. Curriculums are organized in a way that meets the demands of the time and, using their professional knowledge gained from various experiences and studies, our teachers devote themselves to education so that students can enthusiastically study and improve their skills. Kyoto, where our school is located, is a city of history, a city of culture, a city of many universities, and a city where the world's leading hi-tech enterprises gather.
There is Tenjingawa river in front of the Tenjingawa school building and alongside the river runs a wonderful row of cherry blossom trees that is visible from classrooms. The graduates of our school have been active in a wide range of fields and different countries.
We are looking forward to continuing to see each individual's success. I wish all of our teachers, staff and students set ambitious goals, rise to the challenge, have a determination not to give up till the end, and strive to be a global citizen who embodies "MINSAI".
Principal YAMAMOTO Masamichi
Distinguishing feature of our school
We offer a finely tuned academic/vocational guidance for students who wish to study at higher education or to work in Japan.

Fully-equipped dormitories are available to ensure a comfortable foreign life for international students from all over the world.

Counseling is offered by our staff, who stay considerate of feelings of each student and possess cultural awareness.

There are many extracurricular activities, such as participating in traditional events of our home town Kyoto and experiencing Japanese traditional culture, to learn more about Japan.
School outline
School Name
Kyoto Minsai Japanese Language School
Principal
YAMAMOTO Masamichi
Location

【Tenjingawa school】
69 Nishikyogoku Kitaooiri-cho, Ukyo-ku, Kyoto-shi, Kyoto 615-0881

【Nishioji school】
17 Nishinokyo Sanjobo-cho, Nakagyo-ku, Kyoto-shi, Kyoto 604-8435

Contact number

【Tenjingawa school】
TEL 075-316-0190 / FAX 075-316-0191

【Nishioji school】
TEL 075-822-0002 / FAX 075-822-0004

Establishment
October, 2001
Inside the school building,
Click here
if you want to know
about the dormitory
map
Tenjingawa school

69 Nishikyogoku Kitaooiri-cho, Ukyo-ku, Kyoto-shi, Kyoto
615-0881
TEL 075-316-0190

Nishioji school

17 Nishinokyo Sanjobo-cho, Nakagyo-ku, Kyoto-shi, Kyoto
604-8435
TEL 075-822-0002